Daniel Pelka memorial stone unveiled in Coventry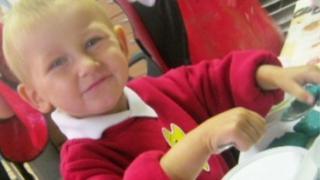 A memorial stone for Daniel Pelka, the four-year-old boy who died after being starved by his mother, has been unveiled in Coventry.
The stone was erected on Thursday at the same time as one in Lodz, Poland, where Daniel is buried.
The campaigners who organised the ceremony said it was important Daniel's case "is not forgotten".
Daniel's mother, Magdelena Luczak, and her partner, Mariusz Krezolek were jailed in August for his murder.
'A place to remember'
The pair were told they must serve a minimum of 30 years each for what the judge called their "incomprehensible brutality" towards Daniel, who died from a head injury in March 2012.
He weighed just over a stone-and-a-half when he died.
Nicci Astin, from the Justice for Daniel Pelka Facebook page, said the group had been formed to try to help Daniel's father raise money to fly his son's body home to Poland.
But she said members had decided to erect a memorial at St Paul's Cemetery, Holbrooks, so people in Coventry who knew Daniel would have a place to remember him.
Ms Astin said the stone was donated by two companies.
"I think it's important for the community they have this," she said. "A lot of people may not be able to go to Poland to visit Daniel's grave.
"We want to make sure people remember Daniel and we want to make sure they learn lessons."