Ken Loach backs Nuneaton Ritz cinema restoration plan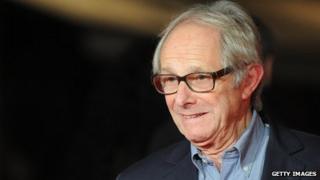 Acclaimed director Ken Loach has backed £5m plans to restore a Grade II listed art deco cinema in Nuneaton.
The director of films and dramas such as Cathy Come Home, Kes and Looking for Eric was born in the town and said he had some "great memories" of The Ritz cinema, on Abbey Street.
Campaigners want to restore the building, which has a Grade II listed interior, and revive it as a cinema.
Mr Loach called for The Ritz to be brought "back to life".
He said: "The Ritz showed some great films. Let's bring the cinema back to the town centre."
'Pretty ugly'
Campaigners hope The Ritz could be used to show films, as well as being used as a community space.
Christopher Borkowski is managing director of SJI, a development company which has £55m plans to regenerate the whole of Nuneaton's west end, including The Ritz.
He said: "Nuneaton is effectively Ken Loach's home and his heritage, so he wants to promote some sort of cinematic experience for the town centre.
"The Ritz is very beautiful inside and it's the interior that is listed. Outside, The Ritz is not structurally sound and the outside is pretty ugly.
"It has been subject to some degradation and there are a lot of pigeons in there but it is still a beautiful art deco interior."
Mr Borkowski said he hoped to submit plans to the borough council in 2014 and said the development could potentially be completed by the end of 2016.
He said he hoped a charity or trust would run the venue and that Lottery funding would contribute to the overall cost of the scheme.
After closing as a cinema in 1984, The Ritz was used as a bingo hall, which in turn closed in 2007.
Peter Lee, chairman of the Nuneaton Civic Society, said: "We want to provide a business case to the council that it has a role to fulfil in the town in the future.
"We would see the space being used for concerts and the arts, as well as a cinema.
"We have got to make sure we do everything we can to save it."
Councillor Ian Lloyd, from Nuneaton and Bedworth Borough Council, said the council hoped an arts and entertainment venue would form part of the overall west end development, although no decision had been made about whether this would be located in The Ritz.