Lindsay Hawker murderer film 'an insult to her memory'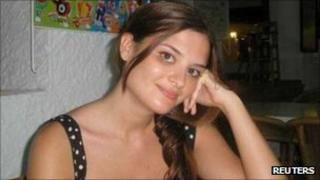 The family of a murdered British teacher have said a film about her Japanese killer is "distasteful and an insult to her memory".
Tatsuya Ichihashi was jailed for life in 2011 after admitting killing Lindsay Hawker, from Brandon in Warwickshire.
A film about his years on the run, called I am Ichihashi: Journal of a Murderer, has been released in Japan.
Production company Sedic International said the film "did not praise Ichihashi or justify his wrongdoings".
Cosmetic surgery
The body of Ms Hawker, 22, was found buried in a sand-filled bath at Ichihashi's flat outside Tokyo in 2007.
Ichihashi spent three years on the run and had cosmetic surgery to change his appearance.
Ms Hawker's family said in a statement: "The family were not consulted and would never have given consent for this film to be made and want to remind people that Ichihashi is a convicted rapist and murderer.
"The family consider this to be distasteful and an insult to Lindsay's memory."
The film is based on a book of the same name written by Ichihashi about his time on the run.
The film's producer, Toshiaki Nakazawa, said: "We have not the least intention to insult the victim as well as her family. Thus, we did carefully produce the film not to dishonour them.
"The focus of the film is on [the] internal struggle of the criminal who committed such a horrible crime, it describes the process of how his fear and sense of guilt pushed him into a corner psychologically and the result that he cannot get away with it in the end."