Two bracelets found in Leicestershire Roman coffin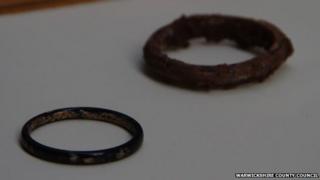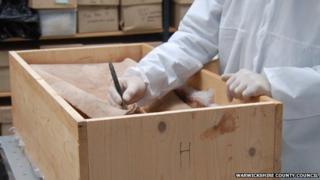 Two bracelets, believed to be "at least" 1,600 years old have been found in a Roman coffin.
The jet bracelets were found on Monday buried in silt inside the coffin which was discovered in a field in Witherley, Leicestershire last month.
Archaeologists from Warwickshire who are studying the find said one bracelet is in good condition, while the other needs "immediate conservation".
They said they have not ruled out the possibility of further finds.
'Very small'
Stuart Palmer, business manager of Archaeology Warwickshire, said: "Both of the bracelets were in the bottom of the coffin. One of them has left its imprint on the coffin's leaden base.
"One of them is in quite good condition but the other has not been so well preserved. It was buried in a part of the coffin that had cracked and it has a number of cracks in it."
He said the bracelets were "very small" and "very cute".
"They were both found in positions in the coffin that could indicate they were on an arm but there's a possibility they could also have been worn as necklaces or even braded through hair," he added.
Archaeologists believe the coffin, measuring approximately 3ft (0.9m), belonged to the child of a wealthy family and represents an early example of Christian burial.
Mr Palmer described the coffin and its contents as "extremely significant".
He said his team was working with scientists from the University of York to sieve through the rest of the soil and said there was a chance there might be further finds.
He said there was very little left of the child's skeleton and what remained was in fragments.
The full programme of tests is expected to take approximately five months.