Tram line could link Coventry and Birmingham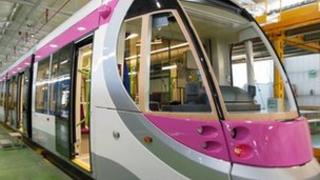 A tram line between Coventry and Birmingham could be built to coincide with the arrival of HS2.
The trams, or a fast bus scheme, would link the cities via the high-speed rail station planned at Birmingham Airport.
Transport authority Centro said funding would come from the Local Connectivity Package (LCP), a £2bn improvement plan for West Midlands public transport.
There is no date for work to start but it would ideally need to happen ahead of HS2's arrival in 2026, Centro said.
The improvement package would also include upgrades to railway stations and tracks.
The "rapid transport system" could take the form of either a fast bus or tram link, Centro said. A map detailing the possible new routes shows a link between Coventry and the airport railway station and a loop connecting the airport interchange with Birmingham city centre via Small Heath and Lea Hall.
The Midland Metro currently links Birmingham with Wolverhampton.
'Enhancing public transport'
Steve Swingler, spokesman for Centro, the authority responsible for promoting and developing public transport in the West Midlands, said: "We want to get maximum benefits from the HS2 for people in the West Midlands.
"A Metro link or rapid transport system from Coventry to Birmingham would give people the services they need to connect to HS2, and enhance the local transport system.
"There is no specific date for work to start on either project, but schemes within the LCP would ideally need to happen ahead of HS2's arrival in 2026."
Sir Albert Bore, Birmingham City Council leader, announced details of the LCP on Friday.
He told the council's transport and economy scrutiny committee meeting that the authority was currently looking at how future transport routes could connect across the city to join HS2.
"We intend to take the next Midlands Metro route from the airport and HS2 Interchange Station and we hope onwards from there to Coventry."
Roger Lawrence, spokesman for the Integrated Transport Authority Shadow Board, which is made up of the leaders of the seven West Midland councils, said: "This really is a once in a lifetime opportunity for the West Midlands to secure jobs and boost the region's economy with the right local transport connections."
Other scheduled plans of the LCP include: capacity improvements on Birmingham's Snow Hill lines, electrification of lines between Walsall and Rugeley and Coventry to Leamington Spa, and extending the Midland Metro tram from St George's in Wolverhampton to Birmingham New Street and Centenary Square.
Correction: This story has been changed to clarify that the link between Coventry and Birmingham has not been finalised and could take the form of a tram system or fast bus link.