Coventry's Ansty Park to get £36m engineers' training centre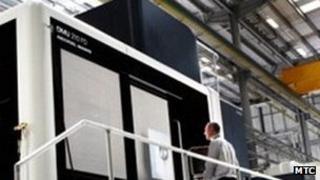 A £36m training centre for future engineers is to be built in Coventry.
Business Secretary Vince Cable announced funding of £18m for the facility at the Manufacturing Technology Centre, in Ansty Park.
An extra £18m has been pledged by manufacturing firms which, Mr Cable said, recognised the "vital role" of future engineers.
The centre plans to host apprenticeship programmes in technology and develop engineering graduates.
Clive Hickman, chief executive of the centre, said: "The new elite training centre will create vital skills."
He said apprenticeships would be "cost-effective and provide tangible value from day one", to small and medium-sized companies.
The centre, close to junction 2 of the M6, opened in 2011 with the announcement it would employ up to 250 people by 2014.
About 700 jobs were lost when electronics firm Ericsson left the site in 2009.