Travellers told to leave illegal site in Beausale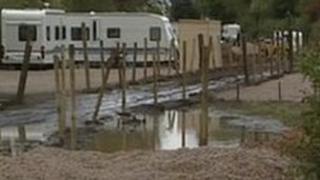 Travellers living illegally on a site in Warwickshire for three years have been told to leave after losing a planning appeal.
The group moved to Kites Nest Lane in Beausale, near Kenilworth, in May 2010.
They had appealed against Warwick District Council's decision to reject a plan to site caravans on the land.
The council said the group had until 22 November to go after the appeal was dismissed by the Secretary of State for Communities and Local Government.
The travellers had made a retrospective planning application to put seven permanent pitches for caravans on the greenbelt site.
'Exacerbate tensions'
The council rejected that plan last September and a subsequent appeal by the travellers was dismissed last month by Eric Pickles.
He said in a report that their proposal "would cause harm to the character and appearance of the area and exacerbate tensions with the settled population".
Warwick District Council said it already had a court injunction in place allowing them to move the group on if they did not leave the site by 22 November.
Anyone breaching the order would be in contempt of court and could be sent to prison or fined, it said.
In June, the land at Kites Nest Lane was identified by the council as one of 20 places that could potentially be turned into a permanent traveller site.
The authority said it needed to provide a total of 31 pitches for caravans across the district.
The list of potential sites is currently subject to a public consultation.