Barclays' Coventry call centre to close with 350 job lost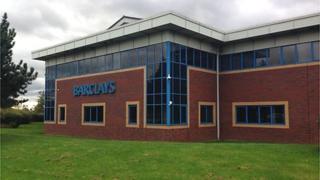 Barclays is to close its call centre in Coventry with the loss of 350 jobs.
The Barclays Contact Centre, in Walsgrave, which deals with online banking and secure payments, is scheduled to close in June 2014.
The Unite union, which represents staff at Barclays, said it had called on the bank to reconsider the measure and called the move "deeply distressing".
But Barclays has defended its stance saying it would help its teams "work more efficiently".
'Important and productive'
One man, who has worked for Barclays for nearly 20 years and asked not to be named, said the company had asked staff not to speak to the media and he did not wish to jeopardise any future redundancy package.
Dominic Hook, Unite national officer, said: "Unite has real questions as to why such an important and productive centre in Coventry is being closed.
"This decision is damaging to Barclays, the staff and the local community in Coventry, where this centre is a large local employer.
"Unite will continue to press Barclays to find suitable local redeployment opportunities for the Coventry staff."
The union said the majority of job losses would be among those earning up to £17,500 but the large number of part-time staff meant many earned "significantly less".
A spokesman for Barclays said some jobs would move to its other site in Coventry at Westwood Park, as well as offices in Sunderland and Liverpool.
The Westwood office currently employs around 1,500 staff.
'Redundancy available'
They said: "We are focused on finding alternative employment options for all affected staff elsewhere within the group.
"We appreciate that for some staff they may wish to take a redundancy option and this will be available."
The city last suffered heavy job losses in 2011 when insurance firm Friends Life announced plans to close its offices.
Louise Bennett, chief executive of the Coventry and Warwickshire Chamber of Commerce, described the Barclays news as "a bolt from the blue".
"Obviously our sympathies are with the staff involved," she said.
"Barclays has said that some jobs will be retained at Westwood.
"We hope they are a significant number and that the company can work hard in the next eight months to help those staff who are not being retained find suitable positions."
Councillor Lynnette Kelly said the city council was "disappointed" Barclays did not make it aware they were making the announcement.
"This is a real blow for the city's economy and we will be seeking to find out from Barclays exactly why they have had to make this decision.
"This is devastating news for the people whose jobs are affected," she added.