Henley-in-Arden station's weather delayed improvements begin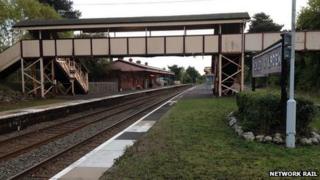 Work to replace an old footbridge and install a new lift at a railway station, delayed by bad weather last weekend, has begun.
The government has funded the £2m work at the station in Henley-in-Arden, Warwickshire.
Network Rail delayed the start of the work after the Met Office issued an amber warning of high winds.
The old footbridge is being donated to the Gloucestershire Warwickshire heritage railway line.
The new footbridge and lift should be in place by Spring 2014, Network Rail said.
A spokesman said the work would not disrupt services for passengers.