Coventry's Tollbar roundabout: Three years of work starting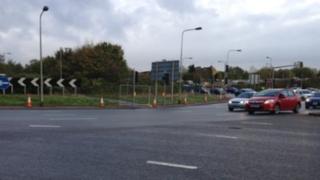 Three years of work is starting as part of a £110m redevelopment of a roundabout in Coventry.
An underpass connecting the A45 from the west with the A46 will allow drivers to go under an enlarged Tollbar End roundabout.
The number of lanes on the A45 from the west will go up from two to three.
Highways Agency Tollbar project manager Paul Nagra said they were trying to "minimise the impact" on drivers by only closing lanes in off-peak hours.
There are five ways off the roundabout - two to the A45, one for the A46 eastern bypass, another for London Road taking motorists to the heart of Coventry and another for Baginton and Middlemarch Business Park.
'Keep traffic flowing'
The Highways Agency said it was hoping to finish in the autumn of 2016 and was expecting "some delays inevitably" for drivers during the work.
Mr Nagra said if the roads could be closed off completely, the work would take place in "a lot shorter period" of time but it had "to keep the traffic flowing as well".
The junction of a mini roundabout near the Tollbar End roundabout, where motorists can go towards Baginton or Middlemarch Business Park, will be turned into traffic lights under the plans.
An exhibition outlining the details of the work will take place at the Holiday Inn Coventry-South on 29 and 30 November.