Daw Mill Colliery: Further fire underground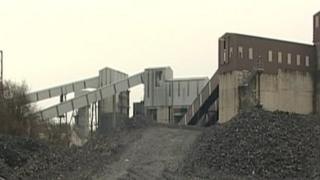 Another fire has been burning underground at the Daw Mill Colliery site, the Coal Authority has said.
Underground fires shut the Warwickshire site in February, leaving hundreds of miners out of work and forcing part of the company into administration.
Smoke was seen coming from the site's drift entrance earlier this week, an authority spokesman said.
Tests showed there had been a further fire, probably in the pit bottom.
The colliery closed on 22 February.
No impact
The Coal Authority said the drift terminal building was opened on 28 October for closure work, which is when the white smoke was spotted.
A sample was sent off for analysis which concluded there has been a "further spontaneous combustion event".
The firm said additional controls were in place to allow closure work to start again and extra safety measures had been taken to disperse the smoke flowing from the drift.
It added the smoke may become darker over time but said there would be no impact on the environment or to the public.
Work to starve the fire of oxygen is under way and is expected to take two weeks.
Daw Mill was one of the last deep mines in the country and was owned by UK Coal.
In July, it was revealed safety inspectors urged the company to close part of the mine months before the fire broke out.