Coventry road system changed in £1.4m scheme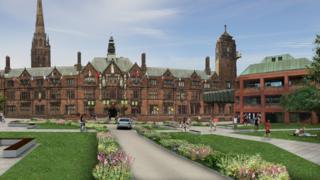 Work has started on the latest phase of a £1.4m revamp of the road system in Coventry city centre.
The current layout will be turned into a one-way system along Little Park Street, Earl Street, Much Park Street and St Johns street.
The plans also include removing traffic lights, building pedestrian crossings, widening paths, and new landscaping.
Coventry City Council said the scheme would "make better use of space" and improve the look of the area.
"It's the shop window for us and we want to make sure that we set a really high standard that new investors will follow," Councillor Rachael Lancaster said.