Coventry City College making progress after 'inadequate' Ofsted report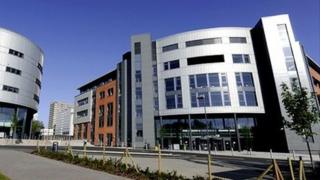 A college which was judged "inadequate" by Ofsted inspectors is making "reasonable progress", a report by the regulator has said.
The principal of Coventry City College, Paul Taylor, left his post after Ofsted criticised teaching and management at the college in April.
A monitoring report, carried out by Ofsted in September, says the college now has "clearer focus".
The college's interim principal, John Hogg, said the report was "important".
"It is recognition of the hunger, passion and sheer hard work of the staff at the college," he said.
"However, we are not getting carried away. There is still much to do and we're getting on with it."
'Green shoots'
The report said assessment of teaching at the college had improved significantly and that staff were now "sharply focused on continuous improvement".
It said the appointment of a new and "highly experienced" chairman and vice chairman, as well as the interim principal, had helped strengthen the running of the college.
It also said teachers who needed to increase their English and maths skills were being supported to do so.
"Teachers are starting to develop learners' English and mathematics skills in lessons more consistently but, for some, this is at an early stage," the report said.
Chairman of Governors Maggie Galliers said: "We are obviously pleased with the outcomes from the monitoring visit which evidenced green shoots of recovery."