Rail depot opens at ex-Peugeot site in Ryton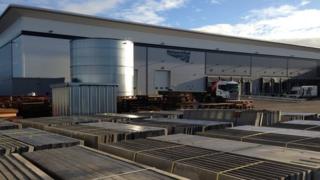 Network Rail's £25m national road haulage distribution centre has opened at the site of Peugeot's former Ryton car plant in Warwickshire.
About 100 people will work at the centre, including 25 newly-created jobs, Network Rail said.
The other workers have moved from depots in Lichfield, Worcester and Ludgershall, Wiltshire, which the company closed to "cut costs".
The former car factory was demolished in 2007.
The 300,000 sq ft (28,000 sq m) centre is the first business to open on the 140 acre (57 hectare) site since the factory closed with the loss of 2,300 jobs.
'Light bulbs to toilet paper'
The site was chosen because of its access to main roads and the motorway network, Network Rail said.
Martin Elwood, director of national delivery service at Network Rail, said: "We transport millions of tonnes of railway products by rail - sleepers, ballast, that sort of thing - and that constitutes for about 80% of what we do."
The new depot will deal with the other 20%, comprising of "10,000 small parts ranging from light bulbs to toilet paper", he said.
The site is owned by two property companies - Trenport and Prologis. They said they were in the process of building a further six industrial premises on the site.
Nicholas Jackson, development director for Trent Property Investments, said the recession was the main reason it had taken so long to develop the site.
"Everything completely stopped for a while," he said. "The fact things have started moving now is a sign of how things are recovering."