Missing Jaguar E-Type made in Coventry goes under the hammer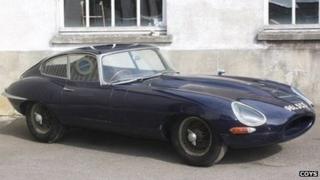 A Jaguar described as a collector's dream which went missing for decades could fetch up to £100,000 at auction.
The E-Type car was the 40th right-hand drive coupe to roll off the Jaguar production line in Coventry in 1961.
Chris Routledge from Coys auction house in Ascot, Berkshire, said there had been "international interest" in the car, which was recently found at a derelict farm in France.
"The first 100 Jaguars to be made are very highly sought after," he said.
The car - described as being in good condition - was bought in 1969 by an Anglo-French family and taken to France in 1974, Mr Routledge said.
It is believed to have laid undisturbed in dry storage in "dusty, derelict farm" in Le Mans until it was found last month.
'Mythical beasts'
Mr Routledge said: "They're sort of a mythical beasts for enthusiasts, at the time they were all handmade on special order so Jaguar collectors look at the first 100 cars in a different way.
"This particular one - number 40 - was missing for years so it's really set the Jaguar world alight.
"We estimate it to be worth between £20,000 and £40,000 but our feedback from collectors and interest worldwide suggests it could sell for between £80,000 and £100,000."
The auction takes place at Ascot Racecourse at 15:00 BST.