Henley-in-Arden £2m railway station revamp delayed by weather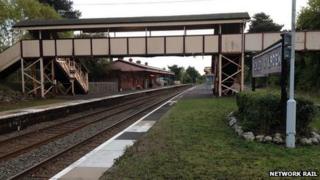 Work to replace an old footbridge and install a new lift at a railway station has been delayed due to the weather forecast.
A Met Office amber alert for England of high winds on Sunday night includes much of the Midlands.
The government has funded the £2m work for the station at Henley-in-Arden, Warwickshire. Network Rail says it has been rescheduled for 1 November.
A spokesperson added the work would not disrupt services for passengers.
The work will involve removing the old footbridge and replacing it with a temporary one until next spring, when the work is due to be finished.
The old footbridge is being donated to the Wensleydale Railway in North Yorkshire.