MP White urges delay for Warwickshire 12,000 homes plan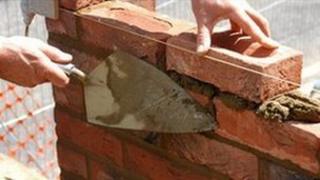 Warwick District Council has been urged to delay plans to allow the construction of 12,000 new homes.
The Warwick and Leamington Conservative MP Chris White told the House of Commons the concentration of properties was unfair for residents.
He has collected petitions with more than 2,500 signatures from objectors.
Alan Boad, leader of the Liberal Democrat Group at Warwick District Council, said the housing was necessary and the MP was "playing politics".
Half of the homes, planned to be built over the next 18 years, would be on land with planning consent in Warwick, Leamington, Whitnash and Bishops Tachbrook.
Land for the remaining 6,000 homes has not yet been identified, the council said.
'Not unreasonable'
In his speech, Mr White said: "I do not believe it is fair that such a concentration is allowed in this part of the district and I believe residents in these areas are rightly angry at the sacrifices they're being asked to make for the development of so many new homes."
He thinks the proposal should be for fewer properties and wants the local plan to be reviewed.
Leader of Warwick District Council, Michael Doody, said: "As 80% of Warwick District is greenbelt, to avoid greenbelt we have to concentrate housing."
He said about 4,000 people were currently on the council's waiting list for affordable housing and he believed it was "not unreasonable" to predict a need of 12,000 in the next two decades.
Mr Boad urged Chris White to "stop playing politics with this", adding "it's too important, this is the future of the district".
Demand for homes had come from the "break-up of families, children who need places to live and inward migration", he said.
He said he understood "premature" applications from developers had upset people, but added: "It's far better to go ahead and get the housing plan submitted then have a debate about numbers afterwards."
Campaigner Anthony King, from the Save Warwick Group, said: "We already have a severe traffic problem particularly in rush hour because there's only one bridge... 12,000 homes is almost going to double the size of Warwick."
More than 200 people objected to the proposals during a public consultation.
In August, campaigners threatened legal action if the plans were given the go-ahead.