Tile Hill cats dead after suspected antifreeze poisoning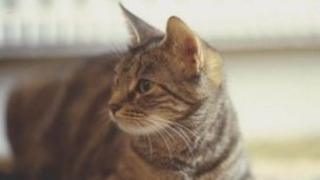 An RSPCA investigation is under way after nine pet cats in one street were poisoned within days of each other.
The cats, who lived in Alan Marcell Close in Tile Hill, Coventry, died from kidney failure.
It is thought by vets that chemicals found in antifreeze, which has a sweet taste cats find attractive, could be the source.
The animal charity said it was possible the poisoning was accidental but deliberate action cannot be ruled out.
Sharon Price's four cats had to be put down after being poisoned.
"When my first cat, Olly, came in, I thought he'd been run over by a car, he looked so poorly.
"I took him to the vet who said it was definitely poisoning and he had to be put to sleep" Ms Price added.
Over the next week, her other cats became ill and also had to be put down.
Ben Jones from the RSPCA said there were multiple ways cats can ingest antifreeze, such as cars leaking and the treatment of water features.