Pair jailed for murder of sex worker Georgiana Stuparu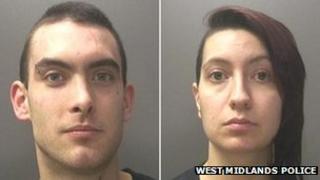 A couple have been jailed over the murder of a Romanian sex worker who was stabbed to death at a flat in Coventry.
Georgiana Stuparu, 23, also known as Yudha Marin, was stabbed four times in Foleshill on 30 January.
Philippe Andre Burger, 26, was jailed for life to serve a minimum of 18 years four months after admitting murder at Warwickshire Justice Centre.
His girlfriend, Ramona Budiencea, 22, was jailed for two years four months for assisting an offender.
She had pleaded guilty to the charge at a court hearing in July.
The court heard that Burger had stabbed Ms Stuparu during a row over money.
He had called her posing as a potential client and used a disguise to trick his way into her flat in Culworth Court in Foleshill.
'Brutal circumstances'
The court was told that once Ms Stuparu recognised him, an argument ensued and she demanded money that he and Budiencea owed her from an earlier debt.
Burger stabbed her four times.
He then called Budiencea who help him use towels to mop up Ms Stuparu's blood and tried to make it look like she had been stabbed by a client.
Ms Stuparu's boyfriend found her body later.
A West Midlands Police spokesman said the pair were caught after they sold a mobile phone they had taken from Ms Stuparu's flat to a second hand shop in Coventry.
Officers also found the knife used in the murder buried in woodland near Lakeview Road along with blood soaked clothing that the couple had tried to burn in a bin.
The pair were arrested at a Fairfax Street hotel where they were living on 1 February.
Det Sgt Harry May said Ms Stuparu "came to England to seek a better life; however, it was ended in such brutal circumstances".
"Her parents had the terrible ordeal of travelling to the UK for the funeral of their loved one.
"They are very happy with today's outcome and have expressed their gratitude to the hard work of the police in bringing this case to a conclusion."