Canley fallen tree on fire closes Birmingham train route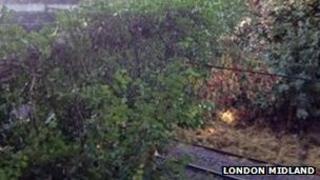 A fallen tree caught fire on a train track in Coventry.
The northbound line between Northampton and Birmingham New Street was closed at about 14:00 BST when the obstruction at Canley was reported.
Three trains travelling between New Street and Euston and a fourth travelling from Northampton were stranded on the route.
The tree was removed half an hour later and trains restarted, but passengers faced delays of up to an hour.
A spokeswoman for London Midland said: "We're not sure why or how the tree fell at this stage. It will be investigated."
Virgin Trains, CrossCountry and London Midland agreed to accept each others' tickets on services for passengers finding alternative routes.