Warwick District Councillors pay back travel expenses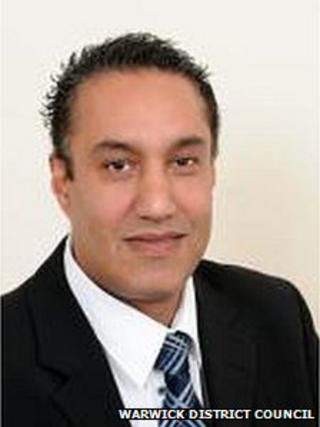 Councillors have been forced to repay travel expenses after an investigation found they made false claims.
The inquiry by Warwick District Council's chief executive found seven councillors had claimed for more miles than they had actually travelled.
One councillor was accused of claiming nearly £300 for mileage for meetings that did not happen or that he did not attend.
Six others were forced to pay back expenses of between £4 and £67.50.
Conservative councillor Prabhjiet Dhillon was found to have claimed £294 travel expenses for meetings he did not go to and made duplicate claims for the same meeting.
'No explanation'
Chief executive Chris Elliot said Mr Dhillon had repaid the money but had so far refused to be interviewed as part of his investigation.
"He has thus far failed to respond to my request for a meeting and provided no explanation for the erroneous claims," he said.
"I am awaiting the outcome of the finance and audit committee's consideration before deciding on the next steps but it may be that I refer the matter to the council's standards committee to formally investigate the matter."
Mr Dhillon has refused to comment.
Mr Elliot said six other councillors had also repaid expenses claims after being interviewed by him.
He said he was satisfied with their explanations and that there had been no attempt to defraud the council.
The authority's procedures for claiming mileage and verifying claims had been "tightened up", he said.
Warwickshire Police said it had examined the evidence and advised the council to hold its own internal investigation as there was "a lack of evidence of intent to defraud".