Riding school petition rejected by Nuneaton council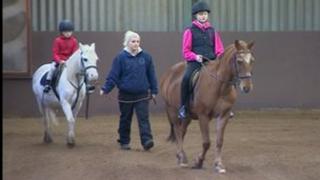 A petition signed by more than 3,000 people to save a disabled riding school from closure has been rejected by a Warwickshire council.
Nuneaton and North Warwickshire Equestrian Centre is locked in a legal battle with the borough council after it decided not to renew its lease.
The riding school has been sent a formal rejection of the petition by Nuneaton and Bedworth Borough Council.
It said the document "falls outside of the petition scheme".
The Nuneaton and Warwickshire Equestrian Centre has been based at Galley Common site since the 1970s.
The lease on the site ran out in December last year but the borough council decided not to renew it.
A judge at Birmingham High Court last month ruled a trial should take place to decide if the equestrian centre has the right to take the council to court over the issue.
'Brick walls'
Riding school trustee Jean Miller said she was "devastated" the petition had been rejected.
"We have spent the last 12 months trying to persuade [the council] to sit down and talk to us about the future, but [they] have just come up with a succession of brick walls," she said.
"The staff, the volunteers, the trustees and the many people, disabled and able-bodied, who use the stables are all at a loss as to why the council are maintaining this stand."
The rejection letter from the council's director of governance, Philip Richardson, said the petition was "misleading".
It said: "It purports to suggest that the council is in dispute with the tenants of the riding school (which as you know is not the case) and that the centre be kept open for everyone to use (which is in direct conflict with the terms of the previous lease, which restricted use to disabled riders only)."
On Monday, campaigners delivered a 5,000-signature petition to Downing Street calling on the prime minister to intervene in the case.