Charles Bateman death: 1,000 people sign petition to improve junction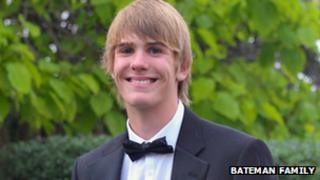 More than 1,000 people have signed a petition to improve safety at a crossroads in Warwickshire where a teenager was killed in a crash.
Charles Bateman, 17, of Solihull, was driving on the B4085 Honeybourne Road when he collided with another car at the Welford Road junction in December.
His parents started the petition last week to get safety improved at the crossroads in Bidford-on-Avon.
Warwickshire County Council has said it will "enhance the signs" in the area.
Charles's mother Theresa Bateman said: "There used to be a very large road sign warning drivers approaching the junction but it was knocked down in a collision in 2010 and it's never been replaced."
'Much slower'
Warwickshire County Council plans to reduce the speed limit on all rural roads to 50mph by next year.
It has previously said it has proposals to improve signage and visibility at the junction.
Mrs Bateman wants the speed limit cut to 40 mph.
She said: "The parish council has written to the county council to say it can't support a reduction in the speed because they can't enforce the 60mph so how can they enforce the 50? It needs to be much slower."
Charles's blue Ford Fiesta collided with a grey Land Rover Freelander at the junction with Welford Road on the evening of 22 December.
He was taken to the University Hospital Coventry and Warwickshire but died from his injuries.