Warwick District Council leader Michael Doody to resign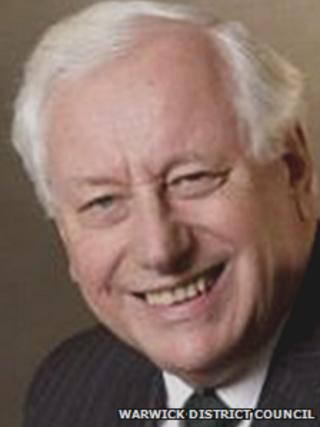 The leader of Warwick District Council is to resign because of "lack of support" from other councillors.
In a statement, Michael Doody said there were a number of members of his party "who pretended to be my friend but have worked actively against me".
The Conservative councillor said he would formally resign at the council meeting on 23 October and step down as leader on 4 December.
A Conservative spokesman said a new leader would be elected by 11 November.
Mr Doody said he was not standing down because of health reasons or to avoid making difficult decisions.
He said it had "become obvious that I no longer have the support of a number of the Conservative group members on Warwick District Council".
"It is not possible to be an effective leader of the council without the total support of my own party so I have come to the conclusion that I must step down as leader of the Conservative group and the council.
"I believe that me remaining as leader would destroy any chance of unity within the group and council, a situation which would not benefit the council."
Warwick District Council declined to comment on Mr Doody's announcement.
Mr Doody was first elected as a district councillor in 1987 and has been the leader of the Conservative group in Warwick since 2007.