Stratford-Upon-Avon boat house to get a £0.7m makeover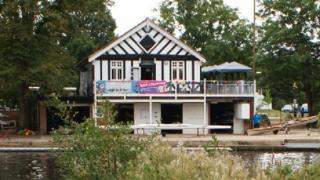 A boat club that taught a Paralympic gold medallist how to row is to redevelop its Victorian home.
Visually-impaired James Roe MBE and his crew won gold in 2012 and he remains a member of the Stratford-upon-Avon Boat Club.
Its striking building is to be given a £700,000 makeover that it hopes will support future champions.
Alterations will provide extra capacity for the club to manage its waiting list of 200 potential junior members.
The club has operated from its original Victorian boathouse, across from the Royal Shakespeare Theatre, since 1874.
Planning permission has been granted for its most significant alterations in over 100 years, to include a large glass balcony overlooking the River Avon.
Andrew Roe, head coach and father of James Roe, has been rowing on the site all his life but said they now had space problems.
He said: "The building hasn't changed since I was 11. There are now three times as many boats in the same building.
"The redevelopment will give us more indoor training facilities, an office, more storage and better changing rooms.
"It's critical with juniors that we keep changing facilities separate and at the moment we can only do that by restricting times they're used," he added.
The biggest change to the club membership came in the late 1960s when women were allowed to join for the first time.
Now the club is used by members and school groups of both sexes from the age of 12.
'Medieval solution'
Glyn Hawkins, club vice captain, said: "The club is growing, we've got 15 new coaches since the Olympics and we're going to double that again, all with volunteers coming forward.
"Our only limiting factor is indoor space. The new building plans could double our membership."
Juniors membership is currently limited to 85 children, with the waiting list of 200 being offered occasional one-off sessions to satisfy demand.
Mr Hawkins said: "It's been interesting designing an extension in the flood plain as development is strictly limited by the Environment Agency.
"The first floor extension overhangs the 1960s block on all sides, so we get a bigger club within the same footprint. It's a bit of a medieval solution."
Fundraising for the building project will be a priority for the club next year, with the aim of building work starting in spring 2015.