Coventry Charterhouse on English Heritage At Risk list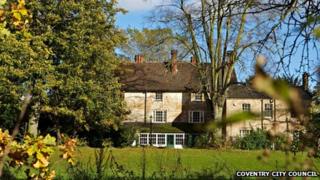 A former monastery in Coventry has been added to a list of the country's most at risk buildings.
The Grade I-listed Charterhouse, off the London Road, dates from 1381.
Formerly owned by City College and used as council premises, a charitable trust took over the building in November last year and attracted Heritage Lottery Funding for a plan to open the site as a visitor attraction.
Volunteers say funds are urgently needed to repair a leaking roof.
'Wall paintings'
English Heritage publishes its At Risk register annually.
Dr Sarah Lewis, from the organisation, said: "The register is a way of raising the profile of sites so that they're more successful in their fundraising events and so that more people get involved and interested and start caring about what is local and in poor condition that perhaps they hadn't noticed before."
She said the urgent need to protect "fantastic wall paintings" from the 15th and 16th Centuries at the Charterhouse was key to the property's inclusion on the list for the first time.
"A leaking roof at the Charterhouse is even more critical than a leaking roof in a building that doesn't have the same vulnerable plasterwork inside," she added.
Ian Harribin from the Charterhouse Coventry Preservation Trust said: "It [the listing] really helps the fundraising effort to restore all the buildings.
"Funding from charitable sources and other bodies like the lottery is very competitive and they prioritise their funding to those most at need."
In August it was announced the trust has ambitions to open the property as a visitor attraction, helped by £10,000 from the Heritage Lottery Fund.
The secretary of the Charterhouse Coventry Preservation Trust, John Ruddick, said plans are underway to apply for major grants to fund extensive restoration work.