Coventry City Council sells empty land for 1,100 homes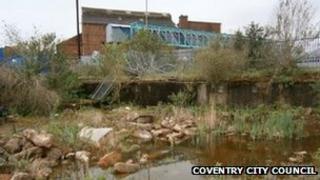 More than 1,000 homes could be built in Coventry as the city council sells redundant council land for development.
A number of sites have already been sold, including a derelict depot in Foleshill which will be accommodate more than 140 new properties.
These sales have now been developed into a four-year plan to sell 19 plots around the city.
The council says this could result in 1,100 new houses being built, delivering £1.1m a year in revenue.
More than 200 homes are being built on former council land near the A45 in Canley.
Dick Crossman House, a former residential council care home in Willenhall, has also been sold.
Richard Moon, from the council's development team, said: "These are either surplus former council property or land we've held on to for a while.
"We're using the receipts [sale profits] to pay down debt to create a long-term revenue saving for the council.
"It's prudent financial planning... and we're trying to respond to the need for housing in the city."
The council is required to save £3m per year from its property portfolio by 2016/17.
It estimates the 19 site sales will contribute £1.1m per year revenue towards this target.
'Greenbelt threat'
The council is still operating without a core strategy, which would control local house building.
The latest strategy, proposing 11,373 new homes, was rejected by the planning inspector on the grounds that neighbouring councils had not been consulted.
Iain Roxburgh, vice chair of the New Local Government Network and former chief executive of Coventry City Council, said "valuable greenbelt" could be threatened as "Coventry's housing problems cannot be solved within the current boundary... in the medium to long term."
Cllr Kevin Maton, the council chair of planning, said more work with neighbouring authorities "should have been done last year" but was hopeful a strategy would be published early next year.