Payout to Maryellen McDowall for errors during birth of baby Hollie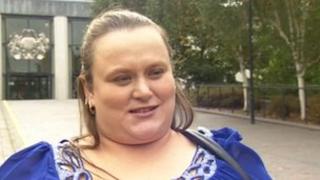 The family of an eight-year-old girl left severely disabled after mistakes during her birth in 2005 is to receive a £1.7m compensation payout.
Maryellen McDowall was admitted to University Hospital Coventry when her contractions started but staff failed to act when her baby, Hollie, appeared not to be moving.
Hollie, who was starved of oxygen and has cerebral palsy, needs 24-hour care.
The family will also get a six-figure sum for every year she is alive.
Ms McDowall, from Coventry, said: "It should never have happened, I'm angry at the staff that were there as they should have been there sooner.
"I was told Hollie wouldn't live past one week, it's been really hard and there's been a lot of upset.
"It doesn't get any easier but it (the money) will give her a better life."
Hollie lives in a specially-adapted flat on the ground floor of the family home.
Lingering concerns
The eight-year-old's condition was brought about by a lack of oxygen during delivery.
Ms McDowall said she was "relieved" the compensation process had concluded but claimed the hospital had still not learned from its mistakes.
"I think the public deserve to be reassured and to be provided with evidence that steps have been taken to ensure incidents like this are not allowed to happen," she said.
Ally Taft from Leamington-based solicitors Alcester Kelley said the hospital admitted it was negligent in failing to deliver Hollie earlier and accepted there would have been no injury had it done so.
Meghana Pandit, the trust's chief medical officer, said changes had been made including all women who are admitted to the labour ward with a complicated pregnancy being reviewed by an obstetrician; the use of a labour management plan; more training and a second checks procedure.
"No amount of money can ever compensate for distress and suffering but I trust the family will take comfort knowing the financial settlement will go some way towards helping Hollie," she said.
The High Court in Coventry approved the settlement on Monday.