Land speed record visit to 'encourage girl engineers'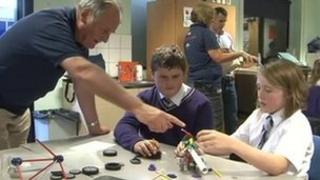 Children have been encouraged to back a new land speed attempt on the 30th anniversary of a British team breaking a world record.
Land speed pilot Richard Noble has been in Coventry to use the record attempt to encourage children, especially girls, to pursue engineering.
A new car, Bloodhound SSC, is being built to exceed 1,000mph (1,609km/h) at a cost of £40m.
The project is involving 5,500 schools across the country.
Mr Noble piloted the jet-powered car Thrust 2 which broke the world land speed record in 1983 by reaching 633mph (1,018km/h).
He visited the Westward Academy in Coventry to support a lesson on aerodynamics and stability, helping pupils to make their own air-propelled cars.
He said he hoped Bloodhound would inspire engineers of the future.
Mr Noble said: "We've got a very big problem in Britain - according to Vince Cable we're the worst in Europe in terms of our engineers - only 10% are women, which is a disgrace.
"So we're trying to encourage as many girls as possible to join us."
Bloodhound is due to make a new record attempt in 2015.
The current record it aims to beat is 763mph (1,227km/h).
This was set in 1997 by the Thrust SSC, which is displayed at the Coventry Transport Museum.