Daniel Pelka: Child protection boss 'didn't know' of case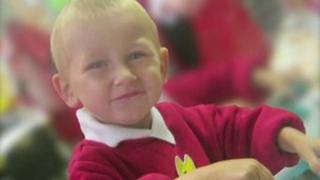 The man in charge of child protection in Coventry when Daniel Pelka died has admitted he knew nothing about the case until after the toddler was murdered.
Councillor Jim O'Boyle said he only learned about the four-year-old's death at a weekly briefing 11 days after the boy was killed.
Daniel weighed just over a stone-and-a-half when he died from a head injury in March 2012.
In August, his mother and her partner were jailed for life for murder.
The judge at Birmingham Crown Court told Magdelena Luczak, 27, and Mariusz Krezolek, 34, they were guilty of "incomprehensible brutality".
The couple, who blamed each other for killing Daniel, who was starved, beaten and held under cold water, were ordered to serve a minimum of 30 years in prison each.
A serious case review into the boy's death, published earlier this month, criticised Coventry Council social workers and other child protection agencies.
The report concluded they had "lessons to learn" about missed opportunities to intervene in the four-year-old's starvation, torture and brutal killing.
Mr O'Boyle, the former cabinet member for children and young people at Coventry City Council, said: "The question everyone asks is: how did they get away with this undetected?
"The truth is they were not undetected."
The Labour councillor gave examples of police being called to the family 27 times over domestic violence, and about Daniel's mother not supporting prosecution of Krezolek.
He added he believed couple's poor English would have been a further problem for police.
Mr O'Boyle said regardless of the failure of official safeguards, only two people were responsible for the toddler's death.
"Daniel was killed by manipulative, lying, cruel, dangerous, drink and drug addled murderers," he said.
"Nobody else."