Warwickshire cyclist trains for world record bid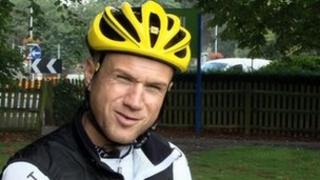 A cancer survivor who has raised more than £1m for charity is preparing to take on a 73-year-old cycling world record.
James Golding, 33, from Rugby in Warwickshire, was first diagnosed with cancer in 2009.
After recovering from the disease he said he felt inspired to raise money for charity.
In November he hopes to cycle more than 1,546.8 miles in seven days to break an endurance record set in 1940.
Mr Golding will be taking on the challenge in Australia, where Pat Hawkins set the record more than 70 years ago.
Four years ago Mr Hawkins was given just a 5% chance of survival after discovering an 11cm tumour between his spine, kidney and bowel.
Dropping from 14 to six stone, he had to learn to walk and cycle again.
"You look at it and you pick yourself up," he said.
"Nobody anticipated the ability I had, the strength I had inside me to fight it."
While in Australia, Mr Golding will also be getting married and he said he was more nervous about that than his world record bid.