Shakespeare birthplace laser show to attract tourists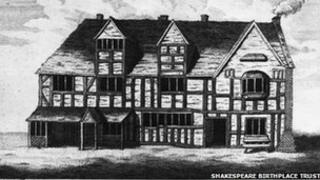 Money for a "groundbreaking" laser show projected on to William Shakespeare's birthplace has been raised by businesses in Stratford-upon-Avon.
Matched by Warwickshire County Council, local shops have contributed £30,000 to the £60,000 needed for the display.
The scheme is a bid to attract more Christmas shoppers to the town.
Shakespeare was born in Stratford-upon-Avon in 1564, and five-and-a-half million tourists flock there yearly.
The Shakespeare Birthplace Trust said the "extravaganza of light" will show a 3D image created by a combination of lasers and real-life performance.
The trust said it will be the first time the technique had ever been used for a public display.
Lights will be beamed on to the walls of the 16th Century cottage while resident acting troupe Shakespeare Aloud! will perform scenes from his best-loved plays.
The laser show will happen four times a night, from 21 November until mid December.
Lynn Beddoe from the trust said: "It's great the money has been raised by local businesses.
"It's nice to know everybody in the community rallied round."