Soldier Gary O'Donnell's medals sell for £110,000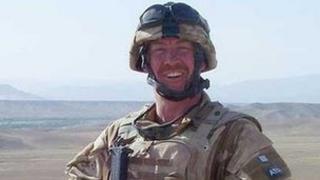 The medals of a soldier killed in Afghanistan have been sold by his widow at auction for £110,000.
Gary O'Donnell, who lived in Leamington Spa in Warwickshire, became the first serviceman in 30 years to win the George Medal twice for saving lives in Iraq and Afghanistan.
His widow Toni said she made the "difficult decision" to sell the medals to provide for her children.
Auctioneers said they did not yet know the identity of the successful bidder.
Christopher Hill from auctioneers Dix Noonan Webb said the price paid for the 10 medals was "staggering".
He said: "One doesn't like to think about what happened to him in financial terms, other than it's a form of measure of the stature in which he is held.
"It's a reflection on what O'Donnell achieved and what he did in his life."
Warrant Officer O'Donnell worked as a bomb disposal expert and was trying to clear a path for fellow soldiers when he died in an explosion in Afghanistan in September 2008, aged 40.
An inquest concluded he was killed by blast wounds.
WO O'Donnell served with the Royal Logistic Corps based in Didcot, Oxfordshire and defused about 50 Improvised Explosive Devices (IEDs) during two tours of Afghanistan before his death.
The set of 10 medals was sold along with three letters from Princess Anne, the colonel-in-chief of the Royal Logistic Corps, on Buckingham Palace headed paper.