River Sowe pass allows upstream travel for fish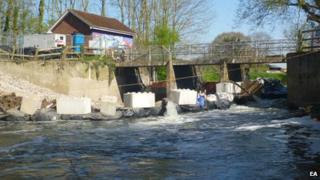 Fish and eels in the River Sowe in Warwickshire are able to swim upstream for the first time in more than 60 years.
A special fish pass has been installed by the Environment Agency, allowing passage over Stoneleigh Gauging Weir, which was built in 1951.
It is to help fish reproduce, find food supplies and reach important habitat to shelter from predators.
Work began in February 2013 and the project cost £400,000.
The pass slows the speed of the water and increases depth, allowing for improved fish migration.
It is designed to improve fish stocks on the River Sowe and Avon.
This fish pass features a "larinier" design, which is a set of "baffles" or plates, on a slope shallower than that of the existing weir, meaning the fish can swim up it.
The project, in combination with a fish passage at Baginton Mill which was completed in 2012, has opened up approximately 12 miles (20km) of upstream watercourse to a range of fish and eel species.
Project manager Adam Deeks said: "This location has been an obstruction to fish passage for over 60 years, so it's very rewarding to finally see the fish and eel pass installed and working.
"We've experienced a number of challenges during the construction phase, including poor weather, so we're pleased to be able to bring this project to a successful conclusion."
The work at Stoneleigh is part of the wider Midlands Fish Pass Project, which aims to create unrestricted fish passage throughout rivers in the Midlands.