Campaigners oppose Lighthorne Heath new 'town' plans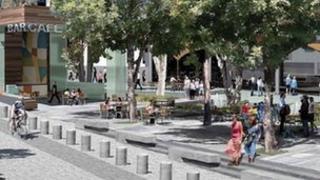 Opponents of plans for a new settlement in south Warwickshire are to hand in their objections to Stratford District Council.
It follows a consultation on plans for 4,800 new houses west of the M40, between Gaydon and Chesterton Wood.
If built, more than 760 acres (1.2 sq miles) of land would be used for housing, light industrial units and three new village centres.
The houses would be close to Aston Martin and Jaguar Land Rover plants.
Laura Steel, chair of Lighthorne Parish Council, said the site itself would be "fundamentally unsuitable for a development of this size".
She is also chair of action group Friends of a Rural and Sustainable Environment (Forse), which is taking legal advice on whether the council has gathered the evidence legally required for the scheme.
Mrs Steel said: "We believe the impact of this large town simply hasn't been properly researched.
"The traffic studies alone are wholly inadequate... and without that body of evidence Stratford District Council shouldn't be pushing forward when they simply don't know themselves the impact on the wider environment."
Tony Bird, chairman of developers The Bird Group, said: "The location at Lighthorne Heath is an ideal opportunity for a new settlement and it is already an established employment hub location, home to Jaguar Land Rover and Aston Martin.
"We are proposing a further 50 acres of employment land to enable residents to live and work in the same location."
'Considerable housing need'
Richard Burke, from developers Commercial Estates Group, said the scheme would provide "employment, cultural opportunities, a mix of housing types, shops, schools and facilities, as well as a country park and other biodiversity".
Stratford District Council said it was required to build 9,500 new homes by 2028.
Leader Chris Saint said: "Government policy tells us to look at this sort of solution. We have appraised the scheme and thought it worthy of consultation."
If the proposed scheme goes ahead, it is anticipated 1,900 new homes would be built by 2028, with the remaining to follow in phases.
Planning advisor Roger Tustain, of Nexus Planning, said the development would help a "considerable housing need" for the district.
A report by Warwick District Council said the development could deliver economic benefits.