Daniel Pelka: Coventry leader vows to learn lessons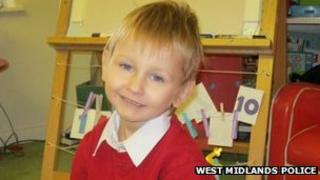 Lessons must be learned from the tragic death of murdered four-year-old Daniel Pelka, a council leader has said.
Councillor Ann Lucas was speaking at a full Coventry council meeting ahead of the publication of a serious case review into Daniel's death.
Daniel's mother Magdelena Luczak and her partner Mariusz Krezolek were jailed for killing him with, a judge said, "incomprehensible brutality".
But Mrs Lucas said the authority would not absolve itself of responsibility.
'Difficult read'
Speaking at the meeting on Tuesday night, she said she did not know the details of the report, which is expected to be published next week.
"But it is clear from the trial that all organisations involved in Daniel's tragically short life have lessons to learn. That will include Coventry City Council," said Mrs Lucas.
"I promise you today that we will not absolve ourselves from any responsibility.
"We will not shirk any difficult decisions that we may have to make as a result of this review, and we will deliver any changes needed as a result of the recommendations."
She added: "We will be honest and transparent in the way we do this."
Conservative councillor John Blundell said he expected the report would be a "very difficult read indeed".
"This goes fundamentally to the heart of child protection," he said.
"It happened in Coventry, it is only right and proper that we give it full consideration and full attention."
Daniel died from a head injury in March 2012. He weighed just over a stone-and-a-half at the time.
Luczak and Krezolek were convicted of murder and ordered to serve a minimum of 30 years.