Coventry black cab maker LTC restarts production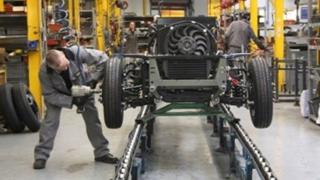 Full-scale production of black cabs has restarted in Coventry.
London Taxi Company (LTC), previously known as LTI, went into administration in October 2012 and was bought by Chinese firm Geely six months ago.
Of the 176 employees at the Holyhead Road plant, 99 lost their jobs and the remaining workforce was retained to repair vehicles.
More than 130,000 black cabs have been made at the site over 60 years. The firm now plans to build a new factory.
'Invest in city'
Business Secretary Vince Cable will visit the site later before going on to the University of Warwick to make a speech about the UK's economic recovery.
Production manager Steve Fitter said the aim was to complete 10 vehicles each day on the production line "in the near future".
Peter Johansen, vice president of Geely's black cab operation, said the firm intended to invest in the city with new premises.
He said: "I've got three sites that I'm looking at at the moment in Coventry... So we can get started on building the new factory for the new company and the new vehicles."
He said orders had been taken for 200 vehicles to export to Saudi Arabia and a further 200 vehicles to export to Australia.
Pete Coulson, from the union Unite, said: "It's good for the economy, good for the city and even more so for those who were made redundant and now get the opportunity to re-engage within the skills they already know."
The company, under its previous name, has been building black cabs in Coventry since 1919.