Child rapist Karl Clay 'has many more victims'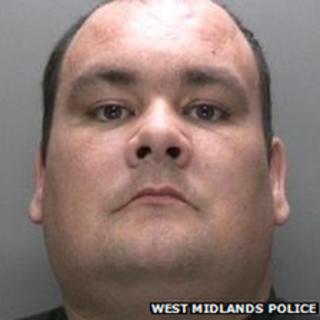 A violent child rapist described as a "monster" by police undoubtedly had more victims, detectives have said.
Karl Clay attacked women and children before pouring petrol over them and threatening to set them alight.
The 39-year-old, of Wood End, Coventry, was found guilty in July of 13 charges, including the rape of a child under 13 and making threats to kill.
Clay's violent attacks spanned almost 20 years and one detective said he was "certain more people had suffered".
Det Insp Christopher Hanson from West Midlands Police said: "There are periods of Clay's life we know very little about.
"He's a monster guilty of horrendous crimes and I'm certain there are more people who have suffered at his hands."
Clay was also convicted of indecent assault of a child, causing a child to engage in sexual activity, harassment, and actual bodily harm.
The detective said Clay's offences first came to light when two victims, now teenagers, broke their silence two years ago.
'Grasp any opportunity'
"He is a monster and a bully who committed ghastly crimes," he added.
"He is a predatory paedophile and I have no doubt that if he had access to a child he would grasp any opportunity to assault them.
"He lied persistently in the face of overwhelming evidence and forced his victims to go through the trauma of a trial.
"We think Karl Clay had many more victims and if you are one, don't suffer in silence, come forward and we will get justice for you."
Mr Hanson said anyone affected should go to a police station or call the police non-emergency number 111.
Clay is due to be sentenced on 23 September at Warwickshire Justice Centre in Leamington Spa.