George Eliot hospital given franchise go-ahead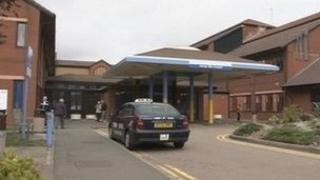 A hospital in Warwickshire has been given approval by the government to seek a partner to run it as a franchise.
The George Eliot Hospital Trust in Nuneaton said it would invite bids from private companies and other NHS Trusts.
It was put in special measures earlier this year because of major failings and higher than expected mortality rates.
An advert for potential bidders would be published early next week, the trust said.
It was one of 11 trusts placed into special measures in July following a national review of mortality by the health service's medical director, Sir Bruce Keogh.
The trust said its board of directors agreed in August 2011 that it wanted to find a "strategic partner via a competitive procurement process."
'High-quality service'
The NHS Trust Development Authority (NTDA) approved that plan at a meeting on Thursday.
Chief Executive, Kevin McGee said: "The Board has been clear in its commitment to provide a sustainable, high-quality service for local people and we're delighted that the NTDA has acknowledged that the process we have proposed is the best way of achieving this.
"We now look forward to seeing what potential partners bring to the table."
The overall selection process is expected to be completed next summer, the trust said.
If the hospital was to be taken over by a private company, it would become the second in the UK after Circle Health took over the running of Hinchingbrooke Health Care Trust in Cambridgeshire in February 2012.