Building a better British baked bean with genetic tech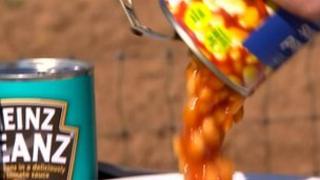 Despite our love affair with baked beans in this country our farmers can't grow them successfully.
Existing varieties don't reach maturity fast enough to beat our autumnal weather and they're also vulnerable to pests.
Now the University of Warwick is looking to change that with a line of beans that should grow quite happily in this country.
These new bean plants are based on research done 25 years ago which didn't quite take off.
Jurassic beans
Scientists at Warwick were clearing through a seed store they were having to downsize and seeing what seeds to save for smaller premises.
The British baked bean variety provoked interest and when it was discovered the beans still germinated it was decided to try and bring the project back to life.
The researchers refer to them as their Jurassic beans.
Today I stood in a small field of bean plants, the original variety and newly created hybrid plants which should be even better suited to our climate and farming needs. Of course it's early days but there's industry interest and the researchers of today have much more powerful tools available to select the best performing plants.
DNA database
Twenty five years ago you might cross two plants and grow a thousand little offspring all with different characteristics. What those traits were would only become apparent once the seedlings became plants. A process that takes three months.
But today the researchers want to create a DNA database of bean plants and their particular traits.
So when you create new hybrids you just have to DNA test the seedlings to find the ones with the characteristics you want.
It shrinks the time to assess the worth of new plants from months to weeks.
A better British bean
And as well as creating a better British bean this approach also means you could create a better bean for farmers in countries all over the world. More drought resistant beans for Africa for example.
As for why the British bean never really took off twenty five years ago?
Well in many ways it was ahead of its time, issues like food miles or climate change just weren't big concerns back then.
After a quarter of a century in a drawer in a seed bank the British baked bean may finally reach its true potential.