Coventry manufacturing jobs come from China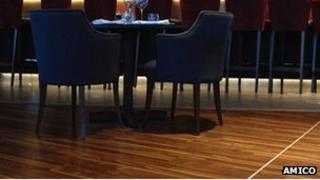 A flooring company has announced a £6m investment in its Coventry factory.
Amtico said it will double the production of the business in the city, allowing some manufacturing to be moved there from China.
More than 200 people work at the plant on Kingfield Road and Amtico said 20 engineering jobs will be created by a new shift pattern.
It is the first time its UK base will operate on a 24-hour basis.
Jonathan Duck, chief executive, said: "We went to the Far East because it was much cheaper and we wanted to see how they do it there and copy it.
"We have gradually been moving production back and although some designs will continue to be made in China, most will be made over here."
The company said the cost difference used to be 40% but it is now just 5% more expensive.
In addition to the jobs, the £6m will be used to buy a calender, a rolling machine used for making floor tiles, which will double the factory's production, said Mr Duck.
Amtico sells flooring to high street shops, hospitals and offices.