Daniel Pelka: Funeral in Poland for starved Coventry boy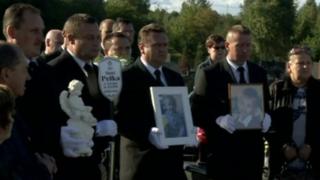 The funeral of murdered schoolboy Daniel Pelka - who was starved by his mother and her partner - has taken place in Poland.
The service took place in the city of Lodz, where the four-year-old's father Eryk lives.
Daniel was beaten and starved by his mother, Magdelena Luczak, and her partner, Mariusz Krezolek, at their Coventry home.
Luczak and Krezolek were convicted of murder and jailed for 30 years.
Daniel's body was carried in a white coffin while some mourners carried pictures of the youngster.
He weighed just over a stone-and-a-half when he eventually died of a head injury in March last year.
His death is the subject of a serious case review by Coventry's Safeguarding Children Board.
Last month the NSPCC revealed it had received more than £10,900 in donations since Luczak, 27, and Krezolek, 34, were convicted.