Fire destroys Canley Sports and Social club in Coventry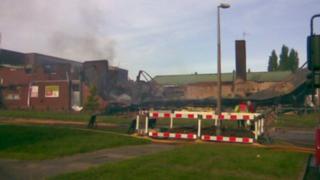 A former social club building at a sports ground in Coventry has been destroyed in a "severe" fire.
Eight fire engines were called to the old Canley Social Club in Marler Road at 00:15 BST.
The blaze took hold of the two-storey brick building, which local residents said had been boarded up and unused since July.
Fire crews have left the scene and an investigation into the cause has been opened.
Incident commander for West Midlands Fire Service, Dean Yates, said: "My understanding at the moment is that there have been no injuries.
"It's obviously a very severe fire exacerbated by a gas main that was difficult to isolate in the early stages of the incident."
One local resident said: "I was here at a children's party just before the end of last term, it was in the dance hall… It was really popular."