Kenilworth Castle moat flood plans put on hold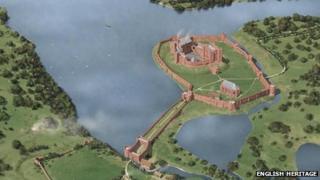 Plans to flood land around a castle in Warwickshire to recreate its moat have been put on hold because of cost fears.
In June, Warwick District Council voted to spend £25,000 on a feasibility study into £20m plans to recreate the lake around Kenilworth castle.
Those proposals have now been sent back to council leaders to look at again after complaints about the cost.
A Kenilworth town council consultation in 2012 found local people were in favour of the moat being re-created.
Councillor Andrew Mobbs, who is in favour of the scheme to increase tourism to the area said: "This is about making Kenilworth Castle an even greater tourist attraction so we get the payback from that £25,000 and any future investment."
'Pressing priorities'
Ann Blacklock, chair of the council committee which called for plans to be reviewed, said: "This is not the time for the council to be considering something so speculative.
"I can't see how the income would justify such an expense, the district has got more pressing priorities in terms of helping people and creating jobs now."
The castle is owned by the town of Kenilworth but has been managed by English Heritage since 1984.
The moat was created by King John in the 13th century as a defence around the castle.
The water was drained out in the 17th century after an Act of Parliament was passed to make sure the castle's defences were destroyed.