Hundreds sign petition to save Nuneaton riding school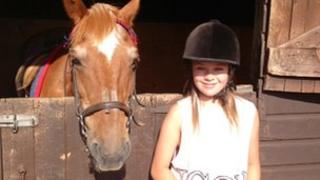 More than 750 people have signed a petition calling for a riding school for disabled people to stay open.
Nuneaton and North Warwickshire Equestrian Centre is locked in a legal battle with the borough council after it decided not to renew its lease.
Campaigners have accused the council of wanting to make more money from the land in Galley Common, Nuneaton.
But Nuneaton and Bedworth Borough Council said the school did not object to the notice when it was served.
Claire Harris's daughter, Ellie, 10, has attention deficit hyperactivity disorder and has used the school, which is a charity, for the past three years.
"I think they are just trying to make money out of them, which is disgusting," said the 41-year-old warehouse worker, from Sherbourne Avenue in Nuneaton.
'Wasting money'
The centre has been running for the past 30 years and is known locally as the Riding School for the Disabled. About 60 to 80 riders use the facility each week.
Until now the school has been paying the council £25 a year to lease the land.
Nuneaton MP Marcus Jones, Conservative, said: "If the council are unhappy with some aspect of the riding school or if they want the land for another purpose they should be transparent and open about it, and stop wasting council tax payers' money on big legal bills."
Philip Richardson, the council's director of governance and recreation, said he was not in a position to comment because of the legal proceedings.
He added: "I should clarify that when we served the notice on the tenants who held the lease, they did not and have still not objected to it.
"Part of the ongoing case centres on whether the people bringing these proceedings against the council even have a right to do so."