Coventry Charterhouse to reopen as visitor attraction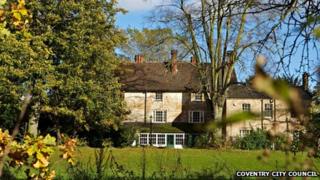 A former monastery in Coventry is to be reopened as a visitor attraction.
The Grade I-listed Charterhouse, a Carthusian monastery dating from 1381, was previously used by the City College.
Ownership of the building was passed to the Charterhouse Trust in November last year.
The trust has been awarded £10,000 from the Heritage Lottery Fund (HLF) to work on its "ambitious" plans for the building.
The secretary of the trust, John Ruddick, said a lot of work needed to be done before the building could open to visitors and it was hoped the trust could apply for major grants to fund the work by the end of the year.
He said the HLF money would be used to pay for advice on business plans and explore ideas on what will be displayed in the building.
The city council said the main Prior's House had been hardly altered since Elizabethan times and features intact wall paintings from the 15th and 16th Centuries.
The trust said much of the large complex of buildings on the estate was demolished after the dissolution of the monasteries in the 16th Century.
The existing structures were converted into a private house and eventually fell into the ownership of the City College before being passed to the Charterhouse Trust.
Coventry City Council is the trustee of the charity.