Atherstone firefighter inquests will not reopen, coroner rules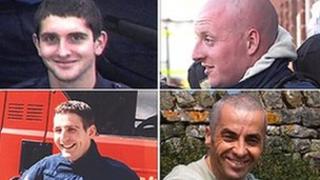 A coroner has ruled the inquests into the deaths of four firefighters in a warehouse fire in 2007 will not be reopened.
The bodies of John Averis, 27, Ashley Stephens, 20 and Darren Yates-Badley, 24, were recovered from a building in Atherstone-on-Stour, Warwickshire.
A fourth firefighter, Ian Reid, 44, died later in hospital.
The county council was fined £30,000 over their deaths and three fire officers were cleared of manslaughter.
The inquests were originally opened and adjourned pending the outcome of the trial.
'Questions unanswered'
The Warwickshire Coroner Sean McGovern said the families of all four men had asked for the inquests to be reopened but he did not see the benefit of doing this.
"The view I have formed is that Warwickshire Police have fully investigated these deaths," he said.
"I have been supplied with and read 24 lever arch files of evidence provided by [the] police.
"It is not clear to me what further investigation could be made that would throw significant new light on these deaths.
"I believe any inquest would in effect be a re-litigation of the criminal charges."
Emma Crocker, the mother of Mr Stephens' four-year-old son, said she wanted the inquest to go ahead because she felt "there were many questions left unanswered at the trial".
'Judicial review' considered
She said the firefighters' families would be discussing their next step.
Meanwhile Mandy Baylis, the mother of Mr Yates-Badley, said: "We pinned our hopes on having an inquest. We thought having an inquest - everything would come out.
"We know that things were not brought out in the first court hearing and we thought the coroner would look through the evidence and see there were mistakes made, that there was evidence withheld.
"We were hoping that would come out."
Ian Reid's widow Julie said it was possible the families might seek a judicial review of the coroner's decision.
Up to 100 firefighters and five ambulance crews were sent to the blaze at the site owned by Wealmoor Atherstone Ltd on 2 November 2007.
Mr Averis, from Tredington, and Mr Yates-Badley and Mr Stephens, both from Alcester, died in the fire while Mr Reid, from Stratford-upon-Avon, was rescued but died later in hospital.
'Terrible tragedy'
Warwickshire County Council pleaded guilty to a health and safety charge in January last year and was fined £30,000.
Incident commanders Timothy Woodward, Adrian Ashley and Paul Simmons were charged over the deaths but later cleared after a lengthy trial at Stafford Crown Court.
Mr McGovern said the three former defendants argued against resumption of the inquests.
Warwickshire Fire and Rescue Service Chief Fire Officer Andy Hickmott said: "The coroner has recognised that the investigations and previous Court hearings over more than five years have examined the circumstances fully.
"The loss of our brave firefighters John Averis, Ian Reid, Ashley Stephens, and Darren Yates-Badley, was a terrible tragedy that is still deeply felt within Warwickshire and across the British Fire Service.
"They continue to be remembered with pride and affection and our thoughts are with their families."