Coventry's Lady Godiva puppet in homecoming parade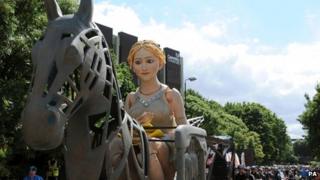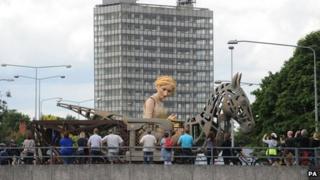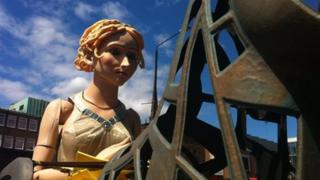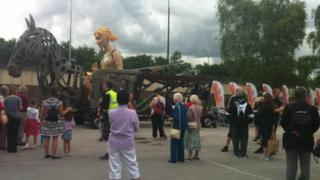 The 20ft puppet of Lady Godiva created for the 2012 London Games has returned to its home city of Coventry.
The huge puppet travelled from Coventry to London on a purpose-built 50-seater bike to represent the West Midlands as part of last year's Cultural Olympiad.
Earlier it was ridden around Coventry's ring road, escorted by hundreds of other cyclists, runners and walkers.
The Homecoming parade is part of the Cycle Coventry project to encourage more people to ride their bikes.
However, the puppet briefly became stuck as it went around a tight bend on the ring road.
Jane Hytch, chief executive officer of Imagineer Productions, the company which created the puppet said Godiva had undergone a makeover following "her trip to London".
'Suffered whiplash'
"She's had her nails done, her feet done and her hair and neck done too," Ms Hytch said.
She said Godiva had suffered "whiplash from tree branches" during the nine-day journey to London, was rained on and "did look a little bit scratched".
"She looked like she'd had the best night out, but she's always smiling," Ms Hytch added.
City councillor Rachel Lancaster said she hoped the parade would inspire other people to use their bicycles in the future.
The parade was followed by a carnival in the city centre.
The Godiva Awakes project cost £2.8m and was funded by Arts Council England, Coventry City Council and private investors.
All the original cycle team members, of which there were more than 100, were invited back for the event.
It is hoped the puppet, designed by 17 engineering companies and helped by the aerospace industry, will play a part in future Coventry arts events like the Godiva Festival.
The original Lady Godiva famously rode naked on horseback through Coventry in protest against high taxes. However, the puppet is clothed.
The puppet is activated by four performers with Lady Godiva's head and eye movements being radio controlled.
It will be based in Coventry's Ramada hotel for the next 18 months while a purpose-build house is built for her in the city centre.