Report into rail crash near Arley says driver was going too fast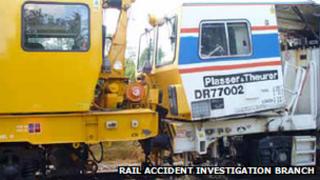 A crash between a railway machine and track maintenance engine occurred partly because the driver was going too fast, according to a report.
The stoneblower hit the stationary ballast regulator near Arley, Warwickshire, in August last year.
A worker on the stoneblower had to be treated in hospital and the vehicle was deemed too expensive to repair.
The report from the Rail Accident Investigation Branch also said the driver was possibly distracted.
It said: "The investigation found that when the stoneblower driver sighted the stationary machine he was driving too fast to avoid a collision.
"The driver's speed was probably influenced by a number of factors which led him to expect that the line was clear.
"It is also possible that the driver was distracted immediately prior to the collision, which caused him to be driving faster than he realised."
The report said the stoneblower was travelling at about 33mph on the run-up to the crash and at 22mph at the point of collision at 04:21 BST on 10 August 2012.
The line between Whitacre Junction and Nuneaton was closed until 18:05 BST.