Tithe barn foundations found in Little Park in Southam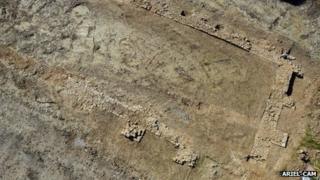 Archaeologists have uncovered the remains of what they believe to be a medieval tithe barn in Warwickshire.
Foundations from three sides of a stone building were found in Little Park, Southam.
The excavation is being carried out on behalf of Orbit Homes, ahead of the construction of homes for the elderly plus a library and office.
Tithe barns were used to store a tenth of a farmer's produce so it could be given to the Church.
This could include wheat or barley.
Demolished
Andrew Mann, an archaeologist working on the site, said: "Tithe barns played a significant part in medieval life and the Southam barn would have been an important and prominent building in the town.
"It is not known when or why the barn went out of use and was demolished, but the earliest maps from the late 18th Century show no buildings on this part of the site."
The exposed foundations are 18m long and more than 10m wide. It is thought the original barn would have been about 40m long.
Worcestershire County Council staff are working with Warwickshire County Council on the project.
Caroline Rann, historic environment officer at Warwickshire County Council, said: "We are really pleased with the results of the archaeological work so far and we will be working hard to ensure that the public are being kept informed of progress.
"The co-operation of the developer and their agents on site is much appreciated."